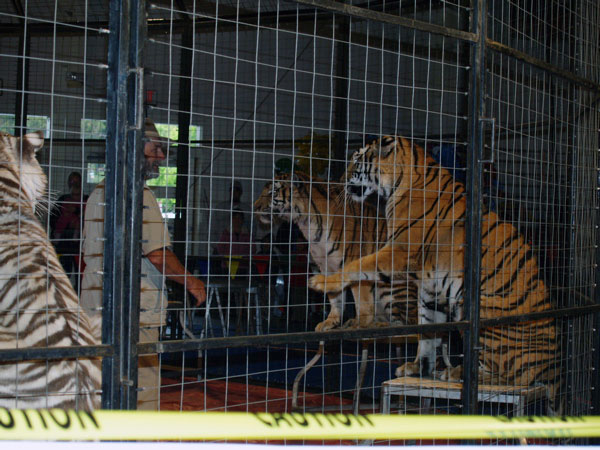 PICTURE COURTESY OF GOOGLE
I was delighted, no ecstatic, to learn today that a backbencher for the
Tories UK Government
asked for a bill to be put through to
STOP
, circuses using wild animals to entertain the public.
A young ordinary working class backbencher plucked up the courage to raise this issue, an issue that has got my craw for many years.
We all have experience of the
Circus
, the big top that entertains millions of us when they come to Town, but what of the poor wild animals who are kept in small cages, deteriorating, becoming tamed, its just not right, and we only have ourselves to blame.
What wrong with having a Circus like for example the Chinese Circus, who specialise in acrobats and lots of cool stuff, they do not use wild animals to entertain us, and yet, they attract millions of keen audiences ,Worldwide.
I often picture a human being locked up in a cage so small all they can do is lie down in it, never getting any decent exercise except when they are in the "ring" it would be classed as human cruelty, so why should it be different for a poor animal, dragged from the wild just to entertain a group of people, shame on us.
The Circus has often had bad publicity, visits from the R.S.P.C.A , fined for cruelty to animals and yet was still allowed to continue like a bad supermarket selling out of date products.
I salute the guy who motioned this ancient ritual of animal cruelty, and look forward to the day when animals are completely banned from entertaining a bunch of faces in a crowd.
I also agree on animals being taken from zoo's placed in a nature reserve and left to enjoy the rest of their lives in peace, gone are the days of humanity getting its "own way" people are now more empathetic to the cause.
What are YOUR views on Circus animals and zoos?
Please checkout
BLOG PROMOTIONS
Please checkout
SHORT STORIES
Please checkout
BILLY'S POETRY
Please checkout
BILLY'S BOOK REVIEWS